Trapping those naughty yet yucky creatures becomes significant when they are too many crawling around everywhere in the house or even outdoors. Rats are a nightmare as they can cause 40 types of diseases resulting in deaths. Getting rid of them is imperative because if left untreated, they are able to produce up to 22 babies per litter.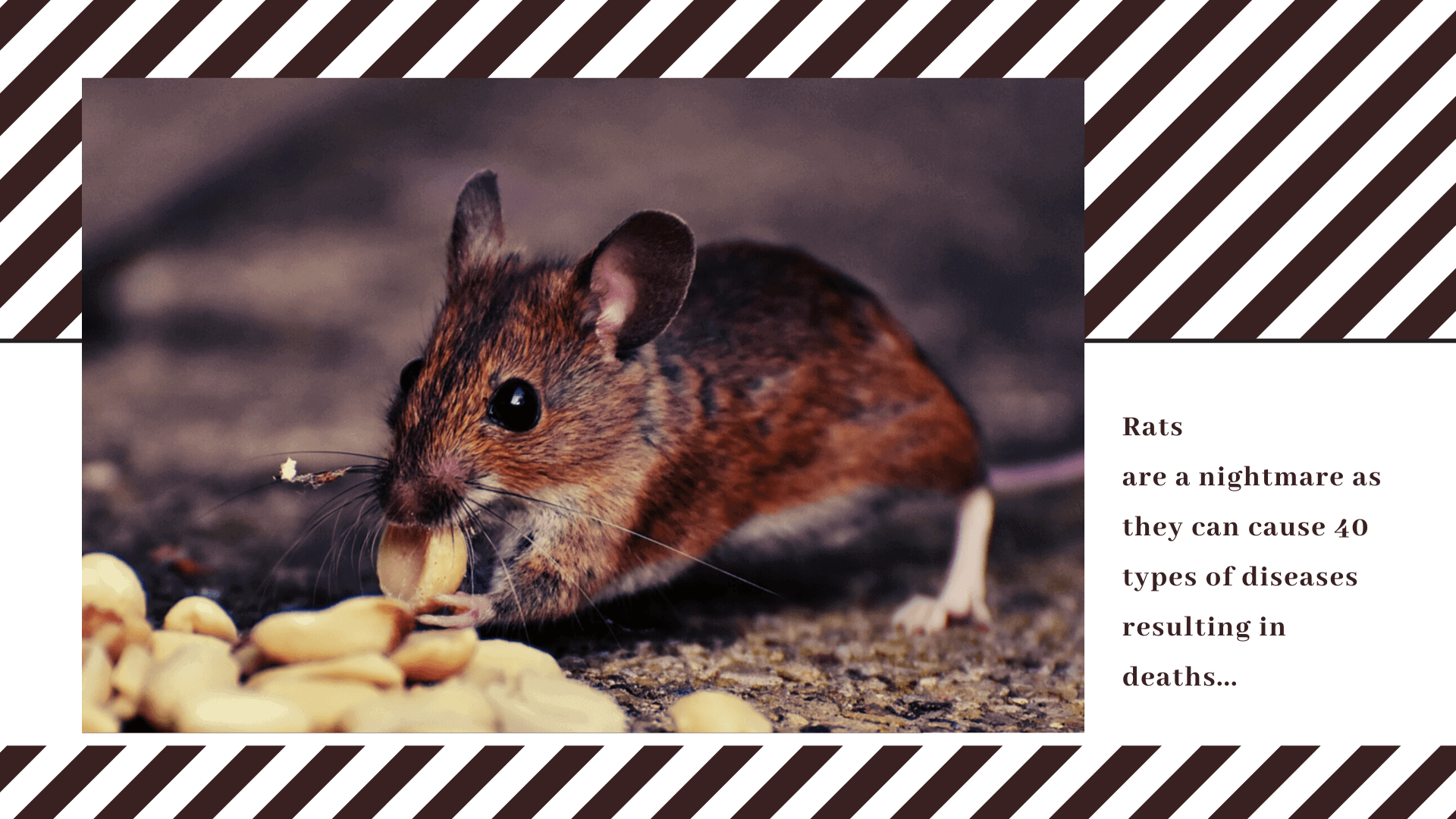 There are quite a few rat poisons, rat traps and rat baits out there in the market using which you can actually say goodbye to this returning species. Annoying sometimes it gets when you are busy in the kitchen and a creepy rat passes by scaring the hell out of you. Similarly, the rodents trouble in the garden area too. Before we jump straight into the best rat baits for rat traps, you must be aware of the types of rodents you will be dealing with and then the types of baits we are going to discuss. As there are blocks, bars, nuggets, chunks, and liquid baits for rats, mice, Norway rats, and roof rats, make sure to pick the one that absolutely falls in your requirement criteria.
Let's get going and read about these products reviewed after conducting a deep research:
[table id=10 /]
[toc]
[thrive_icon_box color='green' style='1′ image="]
[thrive_drop_caps color='green' style='2′]1.[/thrive_drop_caps]
Tomcat Bait Chunx Pail 4 LB – Strong Poison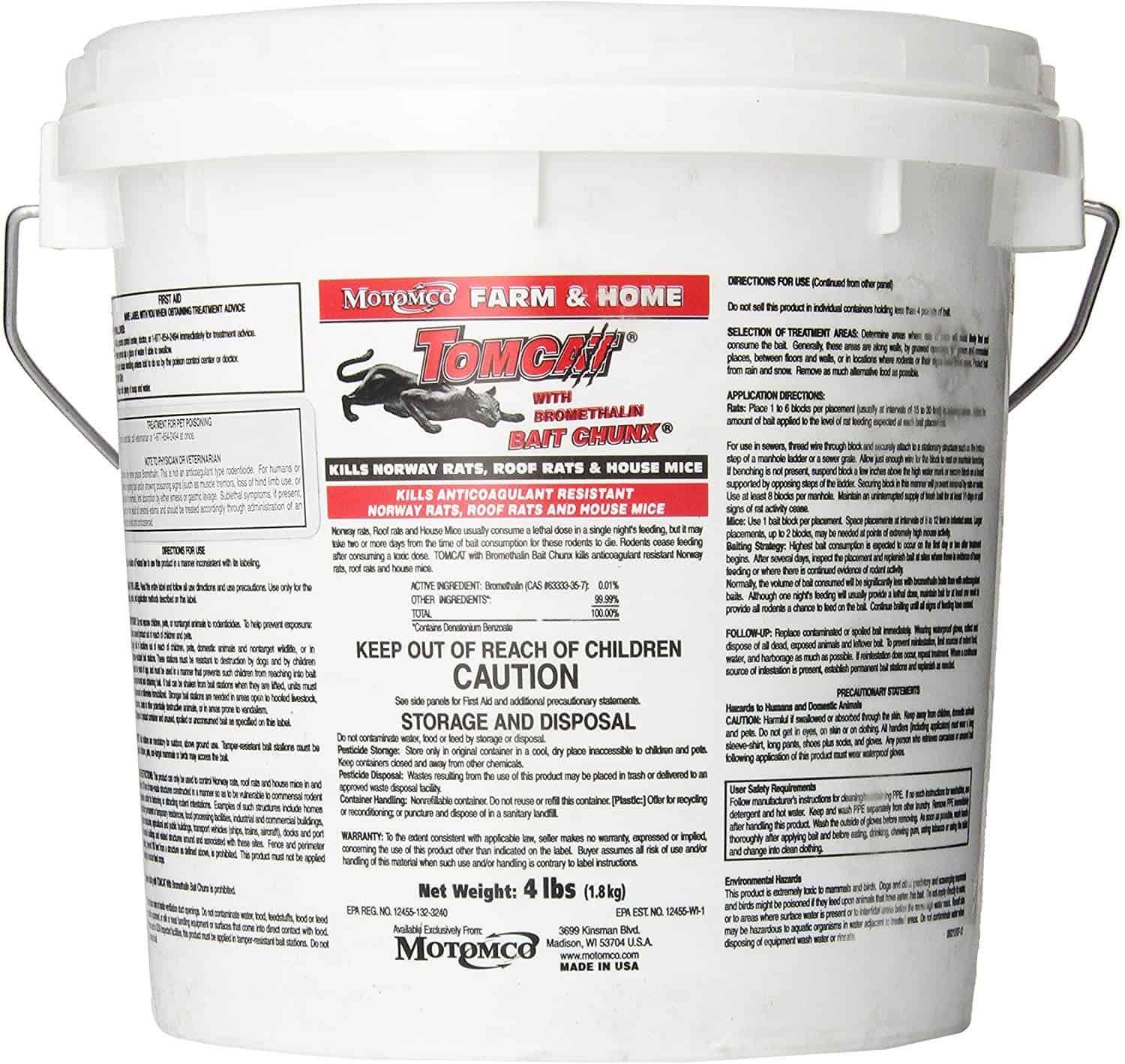 Well, Tomcat is back once again with this incredible product to administer huge number of rodents difficult to manage otherwise. The best rat bait for money, it contains Bromethalin as an active ingredient that is sure to kill rodents in one go. These chunks are really fast at killing destructive rodents and the quantity goes a long way because the rats eat lesser product in one feed.
To make chewing appealing to rodents, the chunks are made of food grade ingredients and negligible paraffin. And when the rats peck, the deadly poison starts working to knock them down in 2 or 3 days. One block is capable of killing 12 rodents, isn't it great? Buy one container and it will last long as the rodents take one bite and then stop eating further. The product is mold and moisture resistant as well as contains holes if you want to place the chunks in bait station. Since the bait is extremely strong, powerful, and high in poison, the recommended and safe use is in agricultural and rural settings only.
[/thrive_icon_box]
[thrive_icon_box color='green' style='1′ image="]
[thrive_drop_caps color='green' style='2′]2.[/thrive_drop_caps]
JT Eaton 704-AP Block Anticoagulant – for Smaller rodents and pest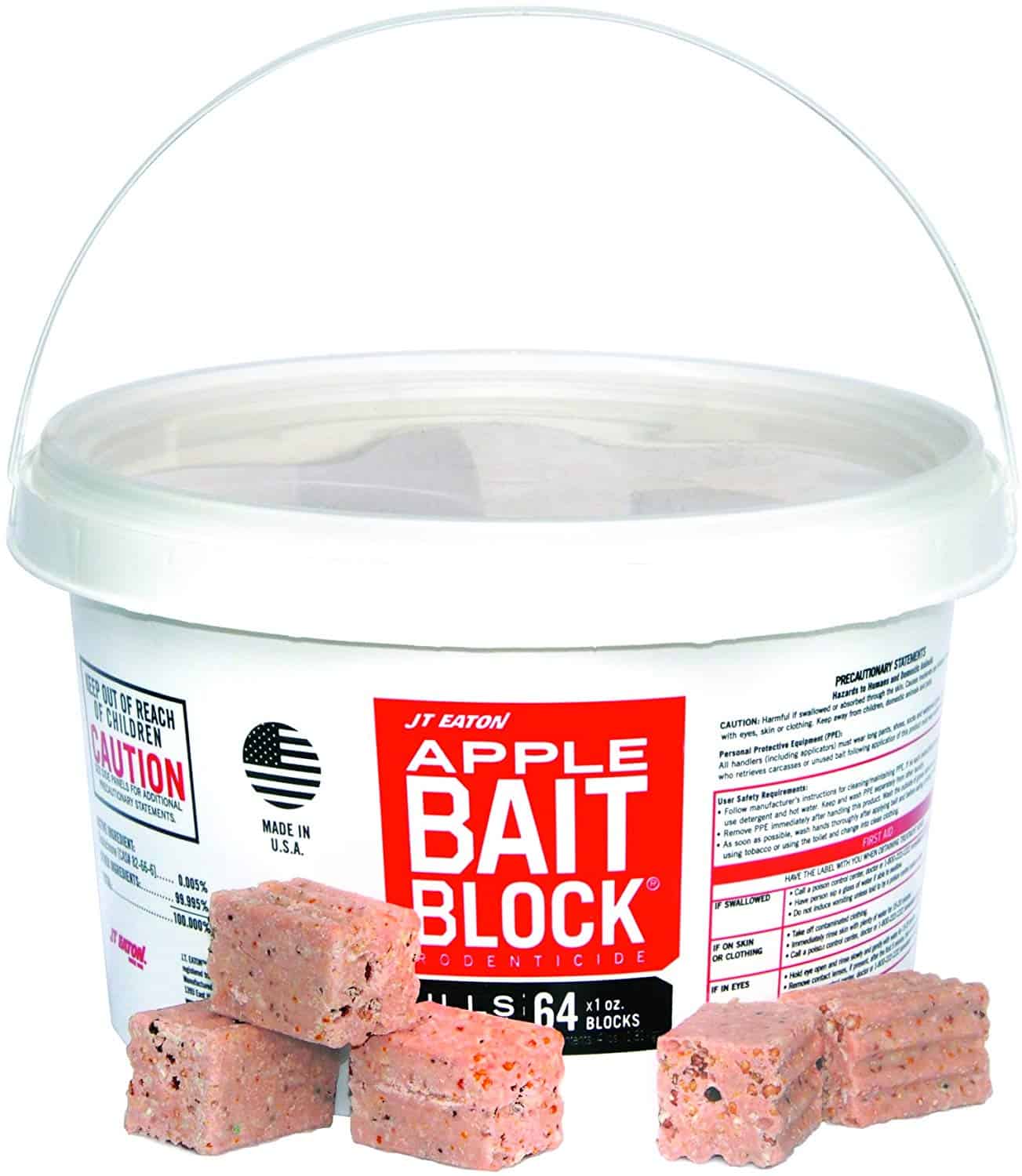 JT Eaton is a renowned and popular brand that manufactures products to eradicate pests. Since their aim is to create a healthy and safe world, this product is brought to you as a testimony to that. The quality of this anticoagulant block is not to be questioned as JT produces only high quality.
These blocks have an apple flavour to lure rats and mice and since Diphacinone is an active ingredient, the smaller rodents and pests are eliminated a few days after feeding. Although it is not that venomous, yet the effect it has on killing the rats is mind blowing. Perfect for basements and garages, JT Eaton is the first choice to get rid of rodents in a special apple flavour.
Wherever you put the block, make sure there are no other insects crawling around. Moreover, places with kids or pets should be under extreme observation. Apart from basements, this product is effective for indoor locations too. In this pack, you will get 64 blocks in a tamper evident resealable pail with transparent lid.
[/thrive_icon_box]
[thrive_icon_box color='green' style='1′ image="]
[thrive_drop_caps color='green' style='2′]3.[/thrive_drop_caps]
Farnam Just One Bite II Bait Chunks – Strong dose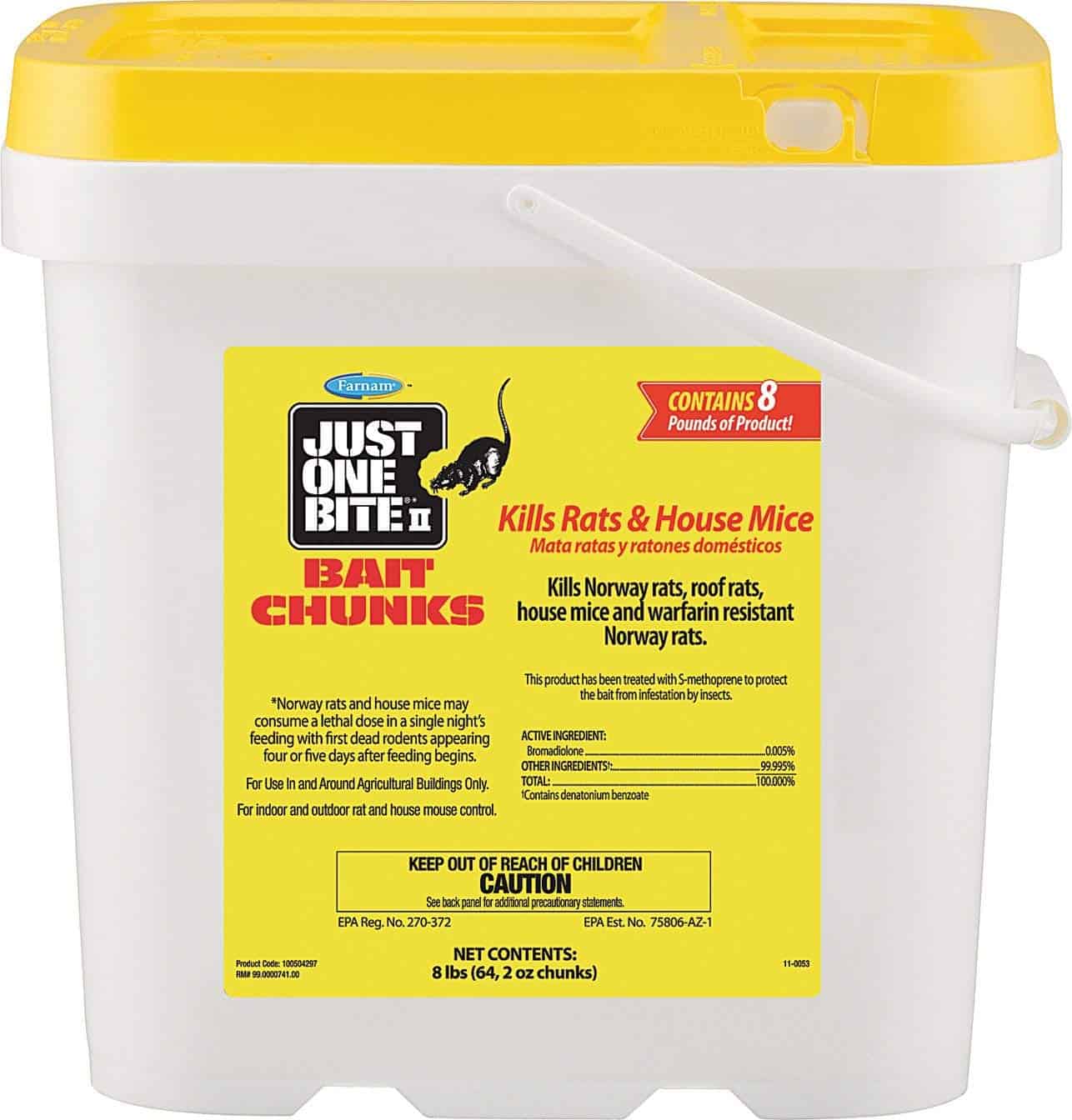 Farnam brings these bait chunks to kill Norway rats, house rodents, roof rats, and warfarin resistant Norway rats. These chunks are highly effective giving a strong dose in one night and the rats are all gone, there you go. As these chunks are used either inside or outside of agricultural premises, make sure not to use it further than fifty feet.
Bromadiolone is an active ingredient which is quite poisonous and the potency is never compromised. If there are kids or pets around, be careful while using this product as it can cause serious life threats if consumed. Talking about the longevity, it lasts long due to the traces of S-Methoprene to prevent the insects tossing and eating the chunks. After the consumption, the dead rat will be visible after 4 to 5 days. If you decide on putting it outside, use a rat bait box as it has holes on the top and ensure to keep everyone away from this lethal product.
To tempt the rodents and rats, the chunks have pecked ridges attracting them in chewing. This product by Farnam is one of the best rat poisons given the rating it has got from the customers although the price is really high. Follow the instructions on the box for best results.
[/thrive_icon_box]
[thrive_icon_box color='green' style='1′ image="]
[thrive_drop_caps color='green' style='2′]4.[/thrive_drop_caps]
Just One Bite II 16 oz. Rodent Rat Bait Cake Blocks – warfarin resistant rodents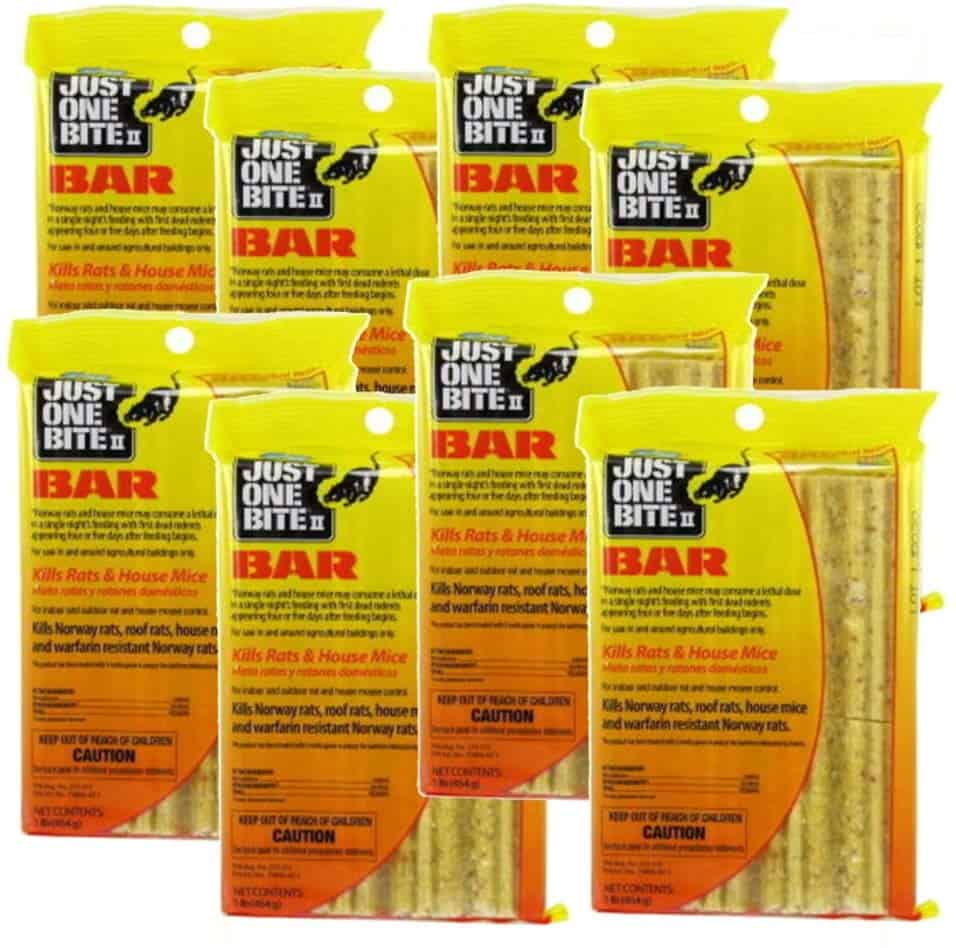 You will be excited to know that Just One Bite never disappoints its customers and this time also, it has brought forward these rat bait cake blocks. Have you had enough of rats or mice? These cake blocks will help killing the unwanted Norway rats, house mice, roof rats, and warfarin resistant rodents in lesser than expected time.
As the blocks are specifically created for indoor and outdoor use, you must be very careful with the placement as it contains poison which shouldn't go into wrong mouths. Since the active ingredient in these blocks is formaldehyde, you will see the rats dying 4 to 5 days after the feeding starts. To be used around manmade agricultural structures and agricultural buildings, the effective dose is consumed in a single night feed with first results 4 or 5 days afterwards.
Next, about the rat species for which you can use this product doesn't cover golden mouse, woodrat, Mexican wood rat, Polynesian rat, meadow vole, white throated woodrat if you are living in California. These blocks are recommended for walkways and flower beds without any yucky smell of a dead mouse in the wall. If this is something that appeals, you should buy it anyways and let it work.
[/thrive_icon_box]
[thrive_icon_box color='green' style='1′ image="]
[thrive_drop_caps color='green' style='2′]5.[/thrive_drop_caps]
Neogen Ramik Green Fish Flavored Weather Resistant Rodenticide Nuggets – weather resistant product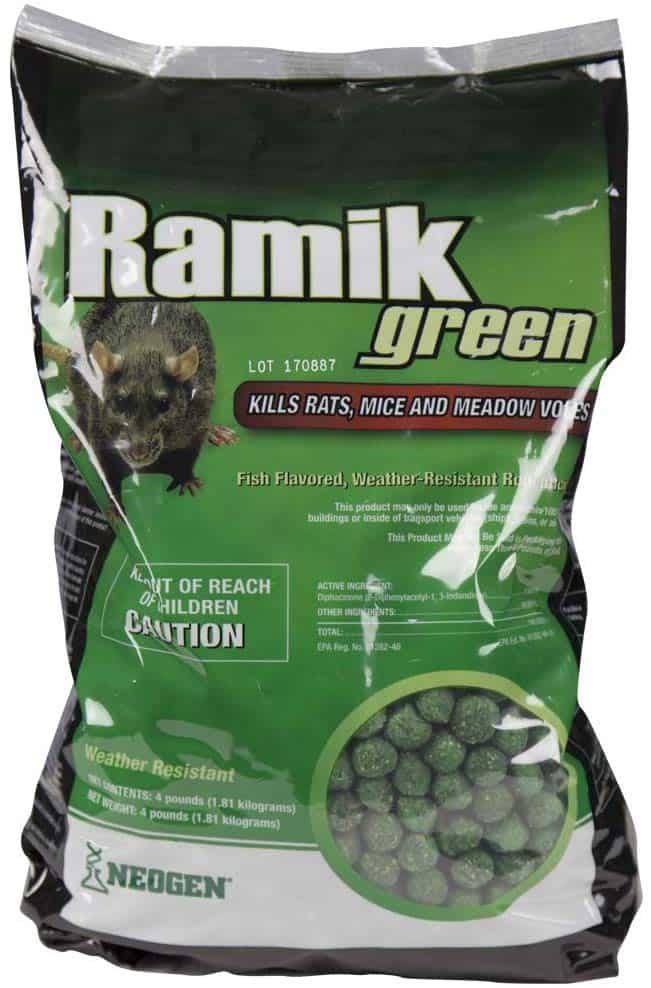 Neogen Ramik is a weather resistant product to control rats and mice whether indoor or outdoor. The manufacturer of this product guarantees commendable results as it is in form of nuggets which attract the rats really fast. Plus, you can place the nuggets in damp and wet areas due to its wax formula that retains the freshness and sweetness for long. This bait system uses food processing technology to produce nuggets which are hot extruded for all weathers.
Talking about the coverage, this product can control Norway rats, house mouse, roof rat but not the cotton rats, golden mouse, Polynesian rat, eastern harvest mouse, meadow vole, southern plains woodrat, white throated wood rat, and Mexican wood rat. Besides these nuggets work well in an around man made buildings or structures. Since rats and mice pose a serious threat to food and spread disease, it is important to kill them and Neogen has taken this step forward to effectively control rodent infestations.
To let it work, just scatter the nuggets all around the place and wait for 3 to 4 days for the rats to die.
[/thrive_icon_box]
[thrive_icon_box color='green' style='1′ image="]
[thrive_drop_caps color='green' style='2′]6.[/thrive_drop_caps]
MOTOMCO Tomcat Mouse and Rat Pack/Pail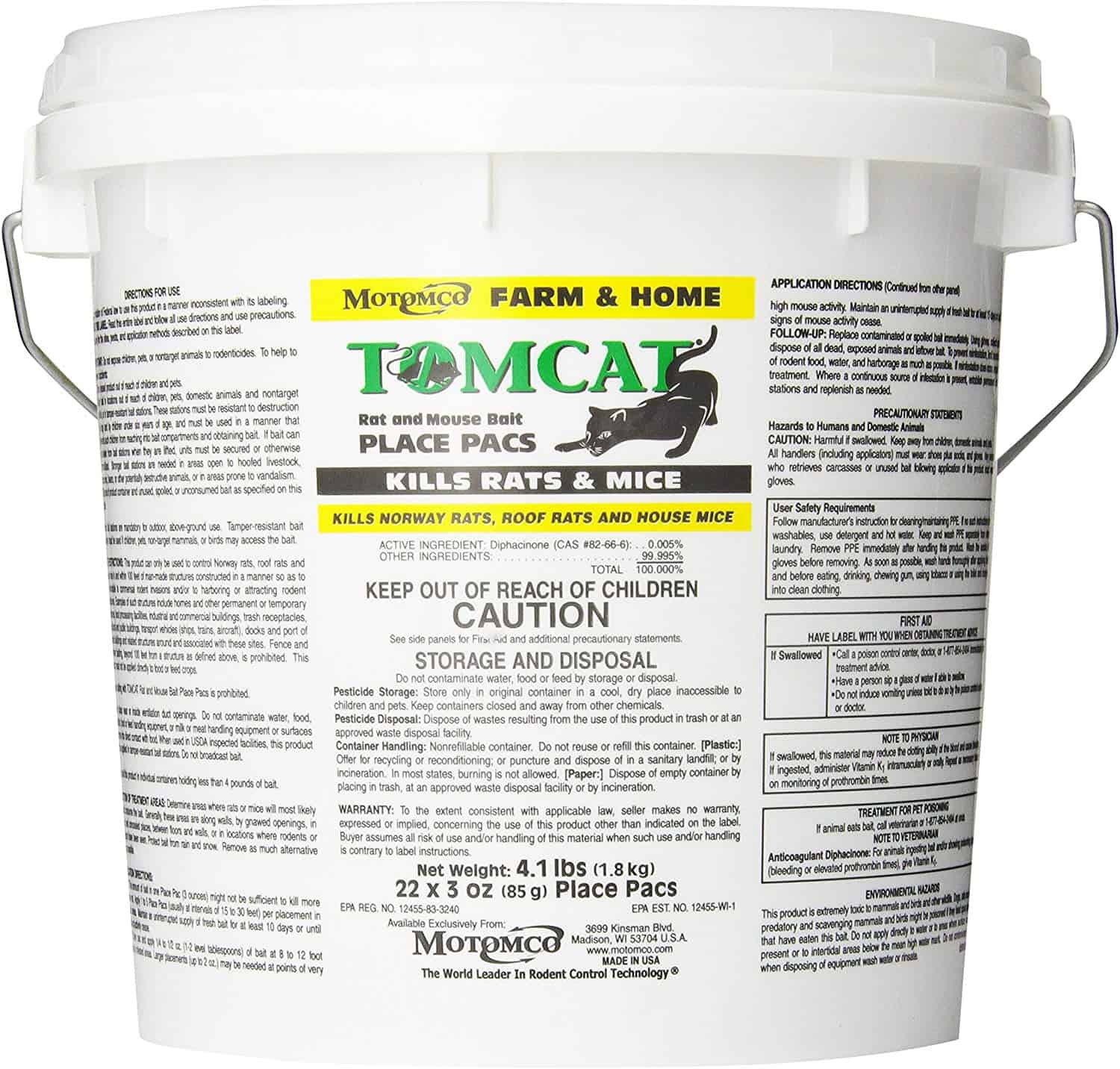 Yet another product that comes in the list of best rat traps, MOTOMCO is an effective rat poison which can be used indoors or outdoors. Perhaps the product kills rats and mice in around 5 to 6 days as the poison works when the rats repeatedly feed on the bait and eventually die. As it work for roof rats, Norway rats, and house mice, you can place it anywhere making sure the pets or kids are away. If using outdoors, put bait traps so any insects don't eat the poison accidently.
The active ingredient used in MOTOMCO is diphacinone which makes it effective to get rid of rats and mice in the quickest time frame. As the product is handy, place it anywhere but be careful about not touching the poison with your hands though. Since diphacinone hits the internal system by preventing blood clotting due to which internal bleeding occurs and the rat dies after a few days.
Although it all depends on you whether or not you want the rats to die after suffering so much, but the product has gained pretty good ratings on a large scale.
[/thrive_icon_box]
Things to Consider when Buying the Rat Bait
Now that you have this complete list of best rat baits for rat trap, there are a few things to consider before you settle on one product. Choosing the right product among these would be much easier if you keep in mind these factors, won't you?
Size
The very first considerable thing is size of the bait. Some baits or chunks are really effective even if the size is small because it's the amount of poison that is present. Depending on the number of rodents and rats to kill, you should pick the product.
Kill time
Different rat baits kill and react differently. While some of them kill instantly, others may take a few days to work. Also, the baits with heavy poison tend to work as soon as the rat or rodent eats it but few of them take 3 to 4 days for the rats to appear dead.
Target species
If the target is only the home rats, a lesser effective poison will do. On the other hand, if you want to kill rats, mice, squirrels, Norway rats, and voles etc. you need a different product. However, clear your heads on what type of rodents you want to deal with. It will help to get the right product.
Ingredients
Every product has an active ingredient which is responsible to work on the rodents. To let the product work outdoors, you need more poisonous ingredient that kills instantly in one feed. For an example, Bromethalin paralyzes the nervous system of the rodent causing instant death in a day or two. Whereas, Anti-coagulant causes slow death by preventing blood from clotting and the rat bleeds internally taking 3 to 4 days to die. There are vitamin based baits too which overpowers the rat's system with vitamin D leading to kidney failure or a slow heartbeat causing death.
Type of product
The baits come in liquid form, chunks, blocks, and nuggets etc. It's important to figure out which one do you need as with the liquid product, your hands will come in contact with poison. However, you should know how to use the product comfortably while placing it. Although all the baits are dreadful, be careful with the usage and placement.
Moisture resistant
The best rat trap is the one that works in both dry and damp areas. Since the rats can be anywhere inside or outside, the chunks or baits you are using should be suitable for wet places too. Some products are wax formulated making it ideal for all the seasons, however, if you find such a product along with all the other features, invest in that one without any second thought. But of course, the usage also varies as if the product is for indoor purposes, you may skip on this feature.
Holes on the bait
Some baits contain holes on the top so if you want to place them in rods in a bait station, it is helpful. Moreover, the bait can be secured using nails or wire anywhere you want. However, if your major concern is using the bait in a bait station, go for the one with holes on the top. As such all the baits are equipped with holes, do check once to save the last minute hassle.
Conclusion
Rats and mice quickly make your life hell and unbearable as they just keep running around. They cut the wires, poison the food, and spread diseases you would never want.
Here we will give a quick overview of what you just read. Talking about the first product in the list, it is effective, affordable and comes in a good quantity. Other than that, the coverage is also fine where the JT Eaton is slightly expensive and that too with less coverage.
You can go with Farnam Just One Bite chunks as the quantity is pretty good as compared to others. But you have to pay almost the double price and the coverage is also better but you should invest in this product only when you have too many rats or mice in the area.
Talking about the best rat bait for money, Neogen Ramik is the real winner as the price is pretty exciting especially when the features are compared with other products. And the last one is MOTOMCO which enjoys good customer rating but since the price is almost equal to Tomcat Bait chunx pail which covers more species, you will most likely consider that one isn't it? While rat baits are poisonous, make sure you check if it's safe to use with toddlers, pets, and anyone else residing in the property where the chunks are placed. Moreover, the baits can kill insects, wildlife, and other animals, consider using the bait stations in the outside areas like gardens so they stay away.