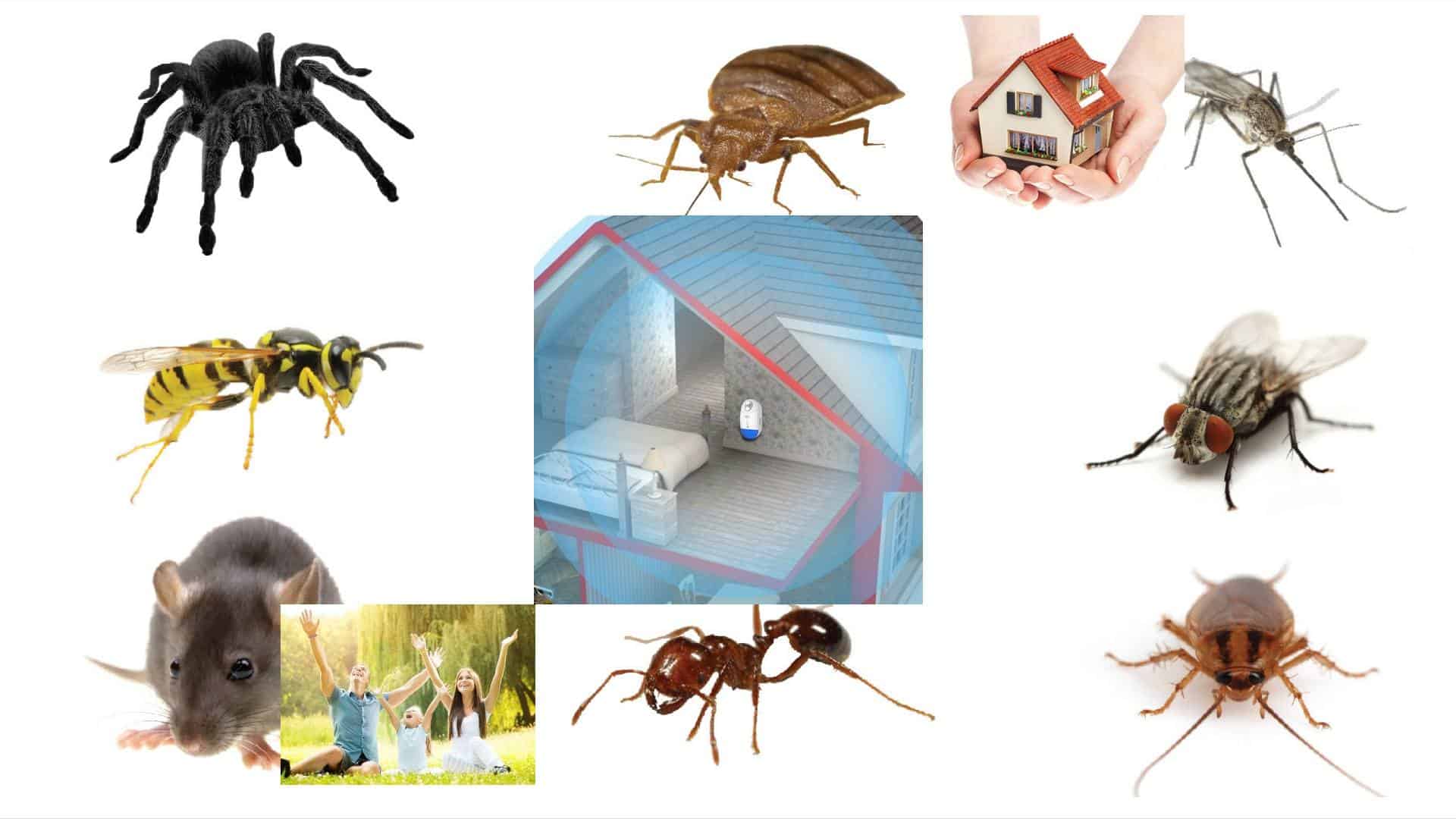 These devices are not specifically designed to kill pests, rather repel them through the sounds emitted such that the pests would rather be anywhere else than in your home.
Ultrasonic pest repellers(UPR) seem to be gaining rapid popularity the world over due to their effectiveness, and no toxicity, without so much effort from the user. They emit radioactive sounds with extremely high frequencies that can only be heard by the pests in your house, both rodents like rats, bats, squirrels, raccoons and mice and even crawling insects like roaches, fleas, bed bugs, ants, and spiders.
In today's post, we are going to review the top pest repellers you can find in the market, as well as letting you in on some of the features you need to be on the lookout for as you make your purchase. Read on to get more information.
How to choose the Best Ultrasonic Pest Repellers
There are of course lots of other characteristics pest repellers can have which differ between products, but we think these are the most important features to be aware of. Just quickly, here's a rundown of what each of those features could mean to you:
Cost
As a buyer, the price of the product is usually the first thing you check before making your purchase. For these ultrasonic devices, their cost may vary from as little as $10 to about $100, depending on the brand of the product, size or the distance the frequency emitted covers.
For instance, plug-in repellers is cheaper as compared to corded units because they cover a limited distance. Most of the plugins come in packs, of about 4-5 which is also quite economical for the buyer in terms of pricing, if you are under a budget.
There are some UPR's that have premium features such as an indicator light that also works as a nightlight, with an extra power outlet that you can use to charge your other devices. These repellers will definitely have a higher cost because of their additional features.
Distance covered
To save on costs and also increase the effectiveness, we recommend purchasing an ultrasonic device that gives you a wider coverage, in terms of distance. UPR's have been designed to cover from about 80 sq. feet, to 1200-1290 sq. feet and for more powerful devices, covering up to 5000 sq. feet.
Corded repellers can give up to about 5000sq. feet coverage, meaning you can use them for bigger spaces such as a basement or attics, to repel rodents such as mice, rats, and squirrels. For smaller insects like roaches, go for devices that cover small rooms.
If you have many small rooms in your house, you can opt for the plugins as you need a different one for each room.
Safety
You should go for the repeller which has been proven safe for both household pets since they are free from odors and chemicals. Most of the devices in the market emit frequencies that will not affect the dogs, birds, and cats in your home.
However, some have been known to cause distress to domesticated rodents, for those people who keep hamsters and rabbits. It's best to take caution to avoid causing harm which will translate to more health issues for your pets.
Corded devices are not the best choice if you have dogs because they emit exceptionally high frequencies that make dogs uneasy.
Top 8 Ultrasonic Pest Repeller Reviews on the Market.
Below we have listed some of the pest repellers you can find on the market right now. We checked their features and reviewed their pros and cons among other relevant features so you can make an informed decision whenever you are out looking for a good and efficient ultrasonic repeller for your home. If you want a starting point for your search, here is our list of recommended products based on the features that we just talked about.
| No. | Product name | Pest type | Our thoughts | View Product |
| --- | --- | --- | --- | --- |
| 1. | 2020 Ultrasonic Pest Repeller Electronic Plug in Indoor Pest Repellent, Pest Control for Home, Office, Warehouse, Restaurant, Hotel (2 Pack) | Mice, mosquitoes, flies, rats, roaches, crickets, and other rodents and bugs | This ultrasonic pest repellent to keep insects away from your home, bedroom, basement, office, restaurant, kitchen, hotel room, or any other indoor space. | View Product |
| 2. | BRISON Ultrasonic Pest Repeller Indoor/Outdoor Plug in Repellent for Mosquitoes Mice Rats Cockroaches Spiders Ants Rodents [4 Pack] | All kinds of Pests: mice, mosquitoes, flies, rats, roaches, crickets, and other rodents and bugs | Suitable for home, bedroom, basement, office, restaurant, kitchen, hotel room, or any other indoor space | View Product |
| 3. | Neatmaster Ultrasonic Pest Repellent – Pest Reject - Electronic Pest Control Plug In | mosquitoes, roaches, bugs, spiders, mice, rats | effective when used for pests in small spaces | View Product |
| 4. | MaxMoxie Ultrasonic Pest Repeller Humane Mice Control Newest Electronic Insect Repellent 2 Pack | rodents, roaches, spiders, mosquitoes, bed bugs, ants | 2 pack; Stronge for use in average-sized rooms, kitchens, garages, attics and basements | View Product |
| 5. | TBI Pro Ultrasonic Pest Repeller Wall Plug-in - Most Effective 2019 Electromagnetic & Ionic Indoor Anti Mouse, Ant, Mosquito, Cockroach Control - Safe & Quiet Device, Night Light - 2000 Sq. Ft | all kinds of pests including not only insects but also roaches, mice, spiders, ants, bees, flies, scorpions, and more | 1 pack; Electromagnetic & Variable Ultrasonic technology to drive pests away | View Product |
| 6. | Bell + Howell Ultrasonic Pest Repeller with AC Outlet and Night Light (Pack of 3) | mice, rats, spiders, ants and roaches | comes in a 3 pack; suitable for use when you have multiple rooms infested | View Product |
| 7. | Riddex Sonic Plus Pest Repeller for Rodents and Insects, 3-Pack Indoor Repellent with side outlet, Get Rid of Roaches & Rodents Chemical Free | all sorts of pests, bugs, vermin and insects | 3 pack; quick and easy rodent defense for your home; simple solution to rats and mice infesting | View Product |
| 8. | T3-R Triple High-Impact Mice rodent repeller | Mice, Rats, Squirrels | 1 pack; Powers Out Mice, Rats, Squirrels etc. with Repulsive Ultrasonic Sounds | View Product |
1
–
2020 Ultrasonic Pest Repeller Electronic Plug in Indoor Pest Repellent, Pest Control for Home, Office, Warehouse, Restaurant, Hotel (2 Pack)
Save yourself tons in pest control with these ultrasonic plug-in pest repellents from ZEROPEST. The electronic pest control device repellers use a 65Khz, works by emitting high frequency sound waves that irritate mice, mosquitoes, flies, rats, roaches, crickets, and other rodents and bugs. The sound is inaudible by humans and pets and therefore do not cause any harm. The devices do not emit any chemicals.
The repeller covers a reasonable area of 2000 sq.ft ensuring that your entire home is protected from these distressing creatures. Use this ultrasonic pest repellent to keep insects away from your home, bedroom, basement, office, restaurant, kitchen, hotel room, or any other indoor space. Each device covers an area of up to 2000 sq. ft. All 2 devices can cover up to 4000 sq. ft.
The repellents do not produce any odor, noise or radiation making them safe for babies and pregnant women alike. Although the repellents do not kill the little animals, it is to your advantage since you will not have dead remains smelling around your house. The makers only discourage using the ZEROPEST repeller if you have a hamster pet.
The company used premium quality material so that the gadgets can hold up to rough use. These repellents are quite small at about 1 inch cubed making it small, easy to carry around and efficient with space. If you care about looks, you will be pleased to note that the repellents sport a sleek design that will blend into any space.
It has an easily accessible power button that allows convenient control of the unit. You will also find an LED light indicator that notifies you when the repellent is powered on. The plugin repellers will work all year round whether it is Summer, spring, autumn or winter. The ideal temperature operating range recommended for these units is 0-104 ͦ F. 
It was thoughtful of the makers to include a 90-250v power supply. This means that it can be plugged into both domestic and high input power supply.
Setting up these units is no task, you only need to install them vertically 80-120 cm away from the floor and plug into the socket and you will be good to go. However, like other conventional ultrasonic repeller, you will have to wait for 3-4 weeks before you can notice the effect.
You are required to keep the repellents plugged to get the best results. Inside the pack you will find 2 pieces of pest repeller meaning you have one for every room in your home, considering ultrasonic frequencies cannot go through solids like walls. If the area is large and intensely infested by pests, the company recommends using additional pest repeller for more effecting deterrence.
You will not be required to find a replacement any time soon thanks to the low consumption and high efficiency of the repellers. They are praised for 360 ͦ multi-directional discharge of ultrasonic frequencies at 0.096 kWh per day per pest repellent. The price point is easily achievable making this unit a worthwhile investment.The company promises 100% Satisfaction Guarantee and assures buyers of dealing with complains and dissatisfactions within 24 hours as soon as they are contacted.

2
–
Ultrasonic Pest Repeller Plug-in Control Electronic Insect Repellent Gets Rid Mosquito Bed Bugs Roach Spiders Fleas Mice Ants Fruit Fly Rodent [2-Pack]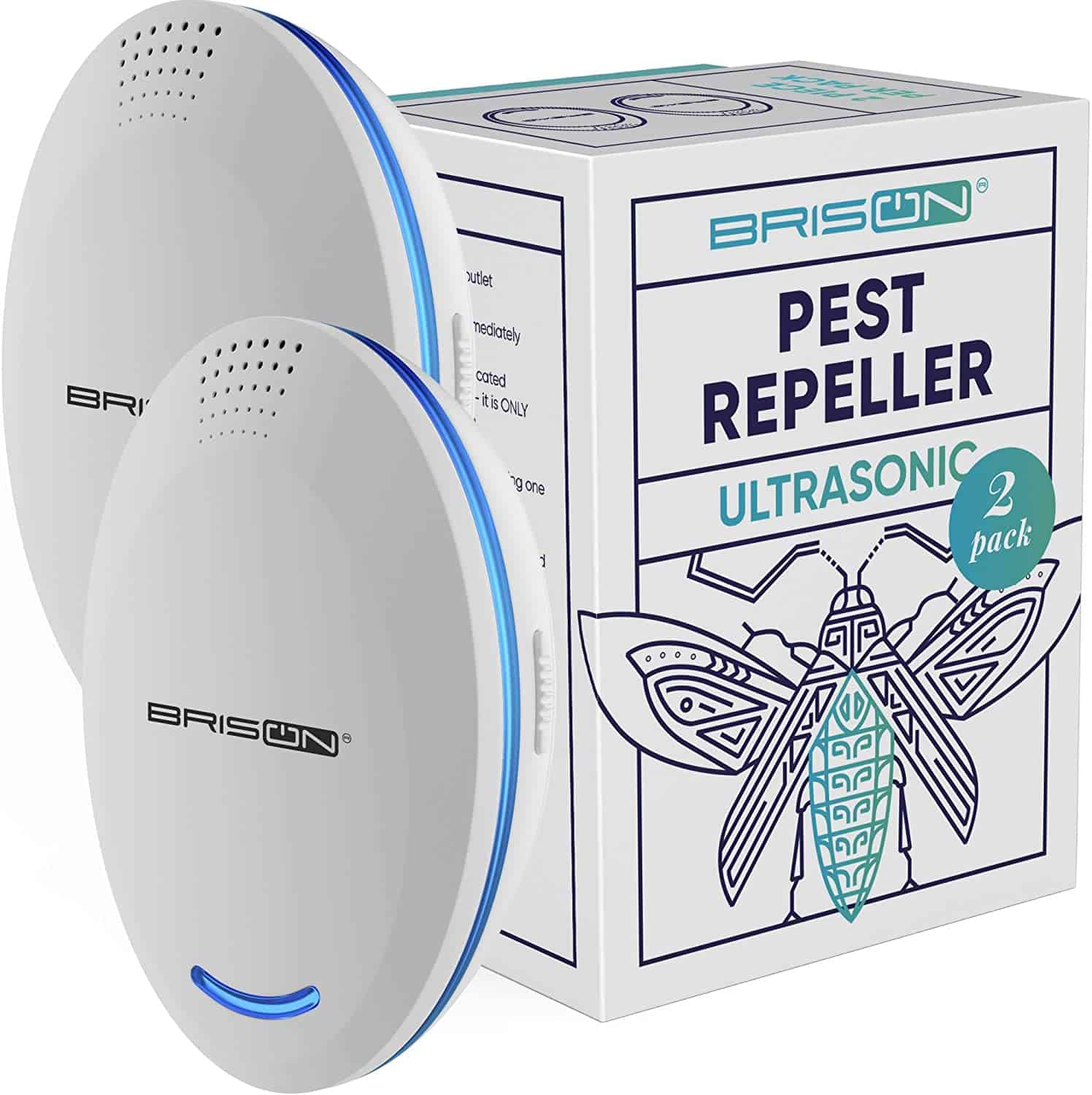 Pest problem is universal as there is no place in the world where pests cannot inhibit and ruin your living space. Well, if you are up to saving money on a complete pest control then go with the Brison Ultrasonic Pest Repeller. The eco-friendly repeller works on electromagnetic and ultrasonic sound waves that attacks the nervous system of mice, flies, rodents, crickets, and other types of pest and drive them out of the house. The 24/65Hz ultrasonic frequency helps in enhancing the performance of the repeller efficiently.
Coming to the coverage area, this product 1100 square feet of coverage which will ensure that the room in which it is setup will be free of the pest thoroughly. However, you get 2 devices in this pack so it will be easy to target the entire house at one time. Overall, these devices will combine to cover 2200 square feet of total area which makes it suitable for home usage, in garages, basements, and even restaurants as well.   
We flag it safe for house usage as there is no chemical substance emitting from the device or noise. The sound is audible to pests only and your family can have time in peace, without being disturbed by the scratching noises. Moreover, you can also install it inside the baby's room. It won't create any noise and disturb their sleep.
Also, it is great for sanitary use as the rodents and other pests run out of the house and don't die inside. This way, you will not have to deal with the dead bodies of mice, cockroaches, flies, and other pests. Another thing is that there is no smell emitting out of the device. This will not cause any environmental pollution in the house. This way it will also not hamper the health of pregnant women or kids.
The construction of the device is done using robust materials for rough handling. The dimensions of the product are 3.9 x 3.5 x 1.9 inches and quite small in profile to not consume a lot of space in the room. The weight of the device is also minimal. It weighs 4.8-ounces for all 2 devices.  Lastly, about the design, it is so simple that whatever house settings you have, contemporary or traditional, the pest repeller will gracefully fit in different house settings.
Other details include the usability of the device which is possible from -31 degrees F to +135 degrees F. This one can effectively work in all seasons. It works on 110 – 240V voltage and the power consumption is between 4 – 6 watts.
You can check if the repeller is working or not from the green light indicator on the device. That was mostly all about the Brison Ultrasonic Pest Repeller and it is a product worth your interest and money. That said, if you want a high-quality product with amazing warranty then go with this model without any doubts in your mind.  

3
– Neatmaster Ultrasonic Pest Repellent – Pest Reject – Electronic Pest Control Plug In-Pest Repeller for Insect – Mice , Roaches , Bugs , fleas , Mosquitoes , Spiders
Looking for an effective UPR for the insects invading your home? The Neatmaster is a plugin pest repeller best known for roaches, mosquitoes, ants, spiders, bugs and fleas control. You can also use the device to repel animals such as mice, snakes, and rats.
At only about $26, the Neatmaster uses both the ultrasonic and electromagnetic technologies that emit sounds that are inaudible to both humans and pets.
The plugin will give you a coverage of about 800-1200 square ft., meaning that you have to use different devices in each room with an infestation as the frequencies can't travel through walls. For small areas, only one device is required, but if you are targeting pests in large areas such as garage or basement, we recommend using about 2 in each space.
What's more? The manufacturers have given a lifetime guarantee on this product, giving your money back if you don't see results in 3 weeks.
It also comes with a premium indicator feature, where you can set your desired mode. If you have a light pest infestation, the green mode ensures no sound is produced. The Purple mode is for a medium infestation where you can barely hear the sounds, and the Red mode is used when you have a severe infestation. It's the strongest mode and both human and pets can hear the sounds. We therefore recommend using the red and purple setting when there is no one in the house.
4
– MaxMoxie Ultrasonic Pest Repeller Humane Mice Control Newest Electronic Insect Repellent 2 Pack Easiest Way to Reject Rodent Bed Bug Mosquito Fly Cockroach Spider Rat Home Animal No Kill Plug in
You have just bumped into the exact magic you need if you are tired of infestation in your home by creeping and crawling creatures. From deterring mosquitoes, cockroaches, ants, and bugs to keeping off mice, birds, wasps, spiders, and wasps, you will enjoy limitless applications with the MaxMoxie Ultrasonic pest repeller.
This is the ultimate protection for your living room, kitchen, bedrooms, office, basements, garage, storehouses and countless other spaces from insects, rodents, and birds. Like you'd love, there are absolutely zero chemicals or radiation released making these repellers safe for your family, babies and pregnant mothers and pets.
The main upside of this unit is that it changes the frequencies of the signal so that rodents don't get used to it. Cases have been noted where mice get accustomed to constant frequencies making them resistant. The cost of acquiring this 2-pack of repellents may be slightly higher, but its efficiency justifies every extra dollar spent.
With an input voltage of 90V – 240V, the MaxMoxie repeller delivers a frequency range of 20KHz – 65KHz. You will barely notice any change in your total electricity consumption thanks to the negligible amount of power these devices use.Once released, the ultrasonic frequencies can cover 1200 square feet, ample coverage for average-sized areas.
 The ultrasonic frequencies are not capable of penetrating solids like household furniture and electronics and walls. This means you will have to avoid placing it near such equipment and ensure that you have one repeller for each room you want to protect since the ultrasonic sound can't go through walls either.
As soon as you plug in the repeller to the power source, it begins emitting frequencies so nothing much is required of you to use it. You will, however, need to wait for 2 – 3 weeks to see the real effects. The first week will see the activities of the small animals increase since the ultrasonic sound will have driven them out of their living space.
 On the second week of use, the repellent will damage the nervous system of the animal and make them non-immune. The rodents, insects, and bugs will finally retreat on the third week henceforth and permanently flee from your home. A single repeller can last for 5 – 6 years saving you the trouble and cost of making frequent purchases.
The company included an LED night light which apart from lighting up your path, informs you when the repellent is on. You can still turn this night light off if you don't like it.
The company ensured they carefully selected materials that can stand up to rough use. They still managed to come up with a sleek device with high detail making it attractive to look at. Its small size means easy and convenient transportation besides not requiring much real estate to set up.
Inside the pack, you will find 2 MaxMoxie Ultrasonic pest repellers giving you one for each room in your house. The manufacturer has confidence in their products and promises a full refund if the repellers don't turn out to be what you expected.
5
–
TBI Pro Ultrasonic Pest Repeller Wall Plug-in – Most Effective Electromagnetic & Ionic Indoor Anti Mouse, Ant, Mosquito, Cockroach Control – Safe & Quiet Device, Night Light – 2000 Sq. Ft 
TBI Pro is keen to prevent an infestation in your home with this 1 pack of Ultrasonic Pest Repellents. The ultrasonic repellents rely on powerful ultrasonic and Electromagnetic technology to keep off  all kinds of pests including not only insects but also roaches, mice, spiders, ants, bees, flies, scorpions, and more . Users even using the repellers to keep off squirrels РЕР.
The sound frequencies are emitted at reasonable frequencies of 50-60HZ making it safe for human use. It can be effective in the range of 2000 square feet per device. The special thing about this device is that it has a good ability to penetrate the wall. You can flexibly choose the ultrasonic frequency depending on the scenarios. 1 band – super electromagnetic ultrasonic insect repellent, 2 band – powerful ultrasonic insect repellent. Multi-frequency ultrasonic waves ensure that pests and rodents do not become immune to sounds and force them to leave your home.
The manufacturer ensured they included no odor, toxin, radiation or noise emitting component making these repellents safe for home use with children and pets. Pregnant women and babies can still work around these pest repellents with no fear of harm. Expect immediate results in 7-10 days, the duration may only extend to up to 21 days in extreme cases. You will need to plug in more repellents if you intend to protect large and open spaces with more serious pest infestation. A single repellent can last you for years before having to replace.
You need not to be techy to set up and use this thing, using the repellent is simple and straightforward and requires no special skills. The repellents demand to be plugged into power sockets saving you the cost and inconvenience of replacing batteries. They can work when plugged into 90-230V AC power outputs depending on what is available for you.
You are required to plug in the pest repeller horizontally 10-15 inches away from the floor or counter top. After plugging in there are no extra settings you will need to configure before using the repellent. There is an easy to reach and use button for firing up the repellent with an LED light that indicates when the device is on. Each of the pest repellents is power efficient and won't have a significant change in your power bills.
The makers discourage installing the units near curtains, carpets, fridges, furniture, and other household electronics as they may deter sound waves. There are suitable for houses, offices, restaurants, storehouses and warehouses, farms among others.
The TBI Pro plug-in pest repellers look and feel premium in build quality and will stand up to long term use. The materials used to construct each unit are of superb quality and the build quality is superb meaning it can take a serious beating. They are small, easy to carry and store and won't eat up much space. They are also appealing to the eye and highly detailed and are sure to make a statement in any setup.
The price is fair and easily affordable making it a decent budget option for any buyer out there. Simply put, it is a worthy bargain considering what you get. Team of pest control professionals is ready to help you with any problem 24/7. If you have problems with the TBI Pro ultrasonic pest repeller.
6
– Bell + Howell Ultrasonic Pest Repeller with AC Outlet and Night Light (pack of 3)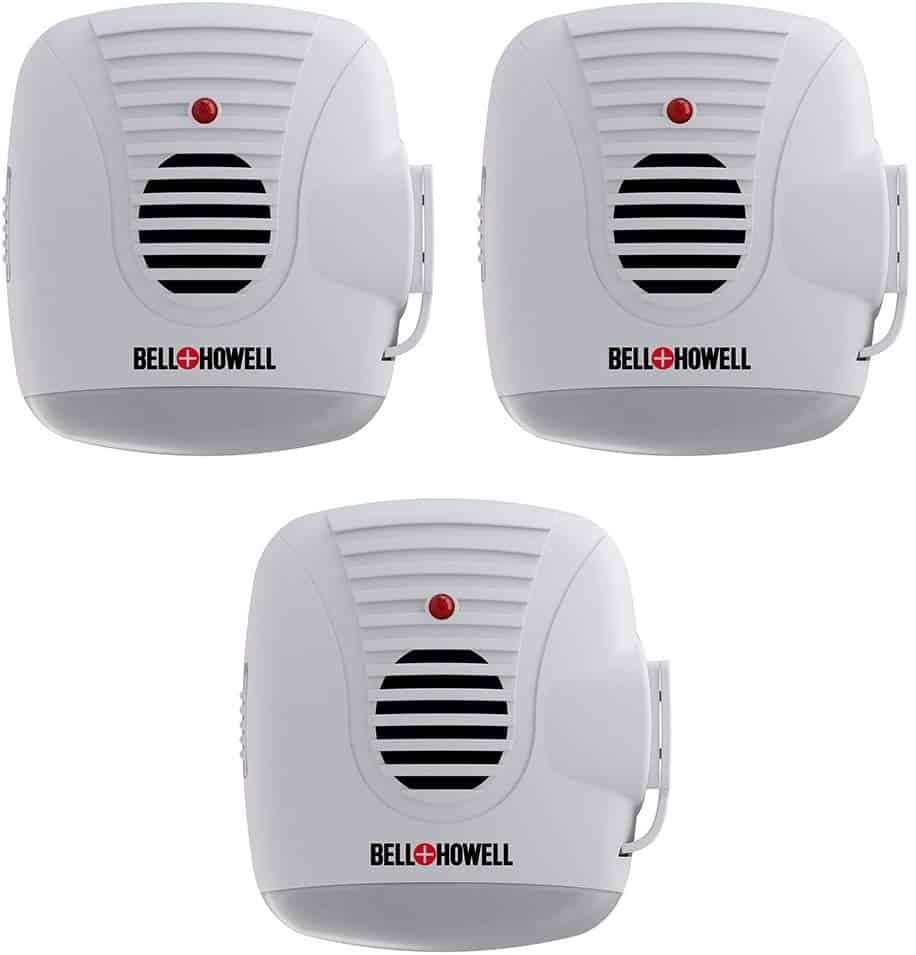 The Bell+Howell is a fast and effective ultrasonic pest repellant that contains no harmful chemicals and help Repel mice, rats, spiders, ants and roaches. The sound produced is inaudible, save for a very light click, so you and your pets will not be bothered.
This URP is designed with a LED light indicator that allows you to know when the frequency waves are working.  It works by combining both the sound waves and the electro-magnetic waves technology. Since ultrasound cannot travel through walls, you might need to purchase additional devices to cover different rooms which are infested.
Most users are concerned about the indicator light which is too bright. We recommend using an opaque tape to block the light if it's bothering you. Additionally, they do not seem to work on ants and the manufacturers have a poor customer service which leaves out most disappointed users with no resolve.
The Bell+Howell ultrasonic repellers come in a pack of three, and each pack will cost you around $19.61.
7
–
Riddex Sonic Plus Pest Repeller for Rodents and Insects, 3-Pack Indoor Repellent with side outlet, Get Rid of Roaches & Rodents Chemical Free
The Riddex is a UPR ultrasonic sound waves, this innovative technology produces sonic waves, which are inaudible to humans but disturbing their central nervous systems, agitate and deter many rodents and insects . Get rid of bugs, pests, and unwanted house guests with this 3-pack of Riddex Sonic Plus Pest Repellers. Going for about $25, this device is appropriate for use in bigger rooms, which also include your garage and kitchen.
The Insect & Rodent Repellent is effective in an indoor area up to 1059 sq. ft. It's widely used in homes, warehouses, offices, gardens, hotels, etc. We recommend you to install one for each room because the ultrasound cannot penetrate walls and solid objects. But for areas with serious pests, we suggest install 2 or more devices for other room. They aren't effective for other rooms if you install device at one room. Once installed, rodents will move because they do not get used to the ultrasounds emitted by the UPR.
Throw away the harmful poisons, dangerous chemicals, and traps typically used in households and by insect control technicians. This mice repellent is 100% safe and effective. Ultrasonic sound is inaudible to humans and household pets; Environmental friendly alternative to harmful and dangerous chemicals, poisons and traps, no bad smell.
According to user reviews, you may start seeing results after 3 days, which shows just how effective this device is. He said that within minutes of plugging it in, he noticed a lot of activity (scurrying about), but mice were virtually gone within about 3 days. 
8
T3-R Triple High-Impact Mice rodent repeller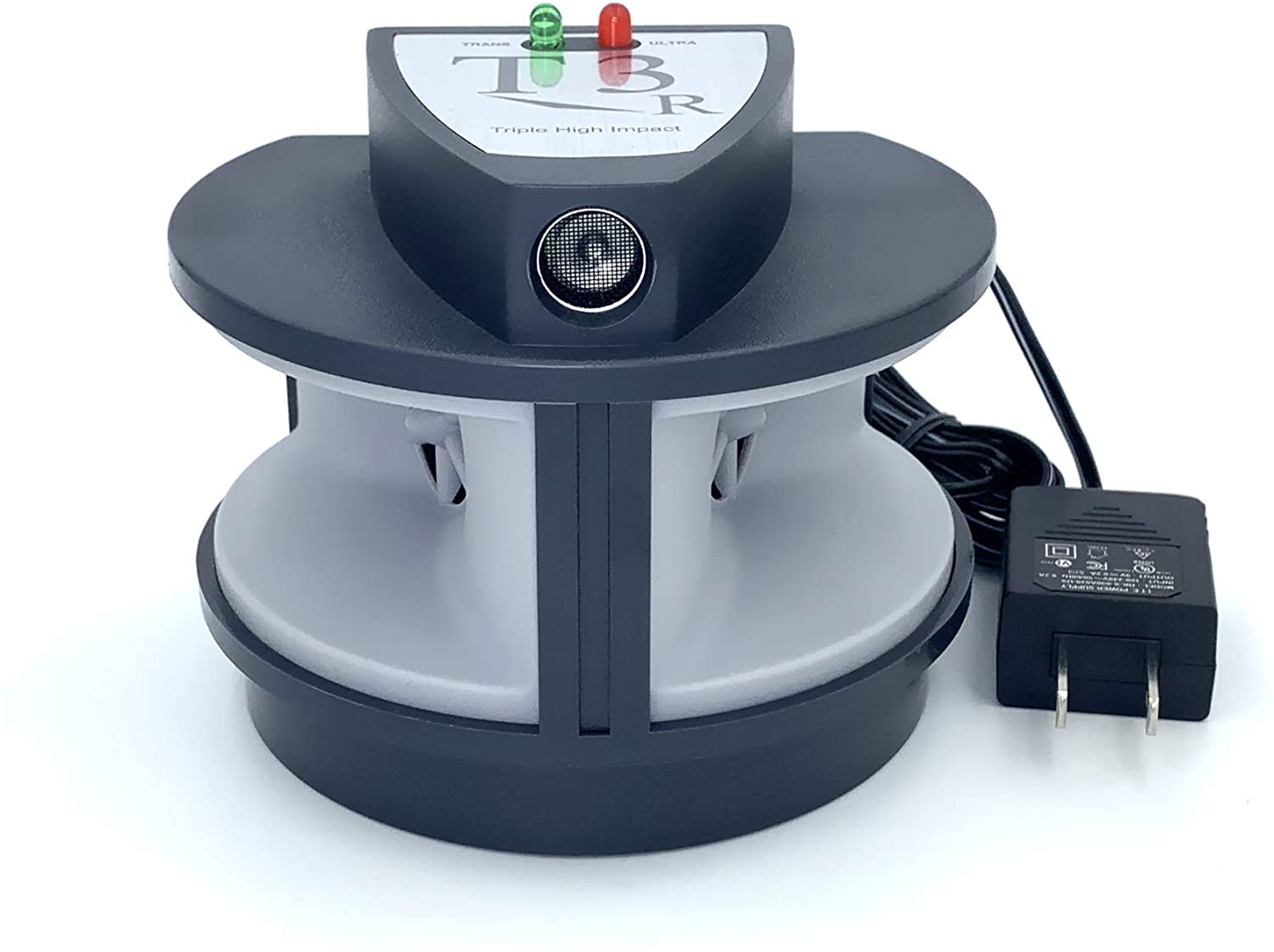 Rodents such as rats, mice, and squirrels can be a nuisance in your home. And eliminating them from your residential space could be a challenging task. If you're looking for an best ultrasonic pest repeller device that repels such rodents, then consider buying the T3-R Triple High-Impact Mice rodent repeller.
This device has three speakers that emit ultrasonic sounds. And with 3 speakers, you get three modes for repelling the rodents inside your home. The three modes include Trans, Duo, and Ultra. The Trans mode or setting has a small speaker of its own.
This speaker transmits repulsive sound waves. The waves disgust the rodents thus keeping them at bay. There are two other larger speakers for repelling all rodents in your house. The two speakers are for the Ultrasonic mode.
They transmit the ultrasonic sound of various frequencies. They are strategically placed on the device for maximum repulsion. The other function- the Duo function or mode- works by combining two modes together.
That means it combines the Trans and Ultra modes together for maximum repulsion. As such, the Duo mode makes this rodent-repellent device more powerful. This device has yet another function, but not anything that repels rodents.
But rather to let you test the device so you can tell if it's indeed operational. The function that we are talking about is the Test mode. Basically, it lets you hear the frequencies that the device generates. This is an excellent mode if you want to make sure you are buying a device that is actually doing its job.
This device uses mains electricity and it is energy-efficient. It uses less electrical energy that you don't see any change in your monthly electricity bill. And it comes with a 6-foot power cord for plugging it into a mains outlet.
Also, it's a very safe rodent-repellent device. It doesn't use any chemical to repel rodents. What makes it even safer is that it doesn't affect your auditory system and that of dogs and cats. Kids too are safe around the device!
It repels rodents within 12 days. And this product comes backed by a 1-year limited warranty. You also get spontaneous customer service if you opt for this device.
Advantages of this device are:
It is very portable since it is lightweight and compact.
It is energy-efficient.
It is safe to the auditory system of pets and humans.
It repels rodents within a short time and without chemicals.
It comes with a warranty and spontaneous customer service.
Conclusion
We have come to the end of our review on the best ultrasonic pest repeller. By having gone through our list of features and reviews of the specific products, you now have a general idea on these repellers and which ones you might consider purchasing.
Do ultrasonic pest repellers really work? Though most users are impressed with their effectiveness, there still seems to be an ongoing debate by scientists and pest control professionals and the appropriate tests are still being carried out.
If you have used other pest control techniques before you know that ultrasonic repellers are the best in the market. Not only because they are affordable, but also due to the fact that they are low maintenance, can control different pests simultaneously and are deemed safe for your pets.
So why wait to test some of the products we have reviewed if you are facing a pest problem? You will never know if they will work for you until you try. As long as you read the manufacturer's instructions and set the devices in the right locations, all you have to do is relax and wait for the URP's to work.
Comments
comments